Lightning is the result when there is too much interaction between the positive and negative charges in the clouds. The air acts as the insulator between the charges and the cloud and the ground. When there is too much build-up, the air brakes, and the electrical discharge we know as lightning is produced. As lightning carries a significant amount of electrical charge, it is very dangerous. In the USA, it is the leading weather-related cause of death. That's why lightning protection systems are a necessity, especially during the rainy season.
What is Lightning Protection System?
A Lightning Protection System is used to minimize the effect of lightning on a structure when it strikes. They protect the electrical components inside the building and prevent fire and electrocution. Usually, there is a metal rod mounted on top of buildings that receives the lightning as it strikes the tower. The metal rod should be connected to the ground via paths that receive the lightning.
Metal rods are usually made of copper and aluminum and other conductive materials. Because of the high current levels, no one can guarantee safety from lightning strikes. Even side flashes can cause damage. But when you have a lightning protection system, the current is being distributed into every conductive path there is to spare the structure.
Benefits of maintaining the Lightning Protection System
Reduce the risk of fire and explosions.
As they say, when there's smoke there's fire. When it comes to lightning, the same also applies. Lightning carries a huge amount of electricity that when not properly taken care of, might result in a fire. The metal in electrical systems and plumbing systems in a structure may become very hot and the nearby combustible materials will start to catch fire. In 2021, there was a case of fire in Cebu caused by lightning that struck a transformer. A house was burned down because of this.
There are homes that are made of highly combustible materials. Homes that use corrugated stainless-steel tubing are prone to explosions. Corrugated stainless steel tubing (CSST) is commonly used because of its flexibility but it is highly combustible.
Protect electronics from surges.
Because the lightning protection system distributes the current to different conductive paths, it saves the electrical and plumbing lines of a structure from damage. It protects the electrical wiring, circuit breakers, and any electric appliances plugged in or not.
Increase property value.
Since the lightning protection system is considered a home improvement, the residential value increases. The residential value is determined by the condition of the house, neighborhood, and other home improvements. The increase may not break even with the cost of installing an improvement but at least it subsidizes the cost of the installment.
Reduce homeowners' insurance premiums.
There are some home insurance companies that offer reductions in home insurance premiums when you have a lightning protection system installed.
How to maintain a lightning protection system with Fluke Tools?
Maintaining the lightning protection system with the ever-dependable Fluke Tool will lessen your worry about lightning-related incidents completely. Preparation will always reduce the impact of the incident. Here are ways how to maintain your lightning protection system with Fluke Tools.
Assess the existing grounding system, and measure soil resistivity.
Measuring the soil resistivity will help you determine which electrode to use and the depth it should be able to reach to get a lower ground resistance value.
Best Fluke Tool for assessment: Fluke 1625-2 GEO Earth Ground Tester
This Fluke ground tester measures earth ground loop resistances using clamps. With this Fluke tool, the danger and time-consuming job of disconnecting parallel grounds will not be a worry anymore. It allows you to run tests in places where soil may not be easily available (inside buildings and power pylons). It gives you a more accurate reading because of its Automatic Frequency Control. Fluke Ground Tester can store up to 1500 records and have them read via the USB port.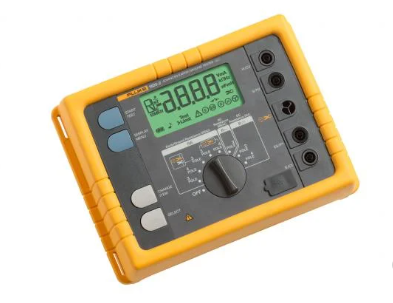 Measure ground impedance and continuity and take other preventive maintenance steps.
Measuring ground impedance after the soil resistivity will help you determine the soil's ability to distribute the amount of energy it will receive when lightning strikes. With the help also of the Fluke 1625-2 GEO Earth Ground tester, you can also determine the equipotentiality of grounding system components like DC and AC resistance.
Troubleshoot problems.
Identify loose connections and overheating conductors. Also, measure insulation resistance to identify insulation breakdown.
Best Fluke Tools for troubleshooting: Fluke Infrared Cameras
Packed with wireless connectivity and temperature range, Fluke Infrared Cameras deliver the needs that most electrical professionals need. They also come with Fluke Smartview software. Identify the problems right away with accuracy through the graph view and safely with their wireless features. Check out the infrared cameras that Fluke has!
Fluke 1577 Insulation Multimeter
This insulation multimeter measures ac/dc voltage, dc millivolts, ac/dc milliamps, resistance, and continuity wirelessly at a safe distance. You won't have a hard time reading the measurements even in cramped areas because of its big display screen and backlight. This compact multimeter also allows you to measure true RMS. It automatically shuts down when not in use – thus preserving the battery life!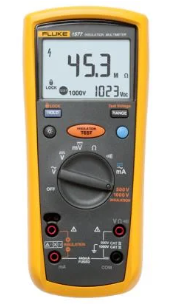 Get your Fluke tools through an authentic source!
Hey, you made it to the bottom! Are you currently looking for the best-performing test tools in the market to run daily maintenance checks on your machines? You're in luck cause Presidium PH is an authorized distributor of Fluke test tools in the Philippines. Prevent these faults from penetrating your machine by using the best test tools there are!
If you want to know more about Fluke tools and their functions, visit our website for more info! This is a one-stop shop for the best test tools within Metro Manila.
Sources: