Newton's third law says that for every action, there is an equal and opposite reaction. We are reaping the consequences of the actions of the generation before us. Harmonics has been around for a considerable amount since the introduction of electronic drives for motors, fans, and pumps. Let's learn more about harmonics and how to address this problem.
What is Harmonics?
Harmonics are the side effects of electronics. These are distortions in the normal electrical current waveform transmitted by non-linear loads. When harmonics are combined with fundamental frequency, this creates distortion in the waveform which causes an adverse effect on your electrical equipment and power lines. Harmonics can be detected by checking these:
1. Load Inventory
2. Transformer Heat Check
3. Transformer secondary current
4. Sub-panel neutral current check
5. Receptacle neutral-to-ground voltage check
Switch-mode power can be seen on electrical devices such as photocopiers, personal computers, laser printers, fax machines, and battery chargers. They are commonly used in supply design because of their ability to supply a fixed voltage output continuously.
Dangers of Power Harmonics
Dealing with electricity can be hard at times because of the dangers it carries with it. There are power systems that can handle a certain level of harmonic currents. But if there is a significant load more than the power system can hold, it can cause errors in communication, overheating, and hardware damage. Here is some hardware damage that can happen:
Overheating of electrical distribution equipment, cable, transformers, standby generators, etc.
Metering errors
Generator failures
False tripping of branch circuit breakers
Lower system power factor resulting in penalties on monthly utility bills
Crest factors and related problems
Fires in wiring and distribution systems
High voltages and circulating currents caused by harmonic resonance
But these circumstances can be avoided with proper maintenance using dependable maintenance tools.
Solving Power Harmonics with Fluke Tools
To solve your harmonics problem, you can turn to Fluke! Fluke has reliable tools for measuring true-RMS and peak values of the wave shape.
Fluke 87V MAX True-rms Digital Multimeter
It measures true-RMS ac voltage and current of non-linear signals from electrically noisy equipment and variable frequency motor drives or VFDs. This trusted multimeter can work with you in dry, dusty, dark, or wet environments for long days. This rugged multimeter can survive drops up to 13 feet. It provides accurate measurements even within an extreme temperature that ranges from -40 degrees Celsius to +55 degrees Celsius. With a large display of digits, white backlight, and backlit keypad buttons, you won't have a hard time reading the measurements! Use it for 800 hours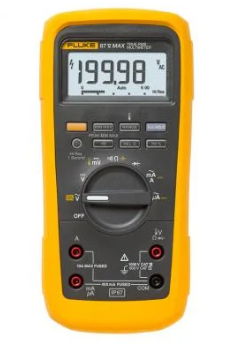 Fluke 175 True-rms Digital Multimeter
This multimeter measures the frequency, capacitance, resistance, continuity, and diode. By measuring these, you are tracing the root of the problem. Its Display Hold and Auto Hold helps you capture important events or measurements. The data input is protected by IEN61010-1 CAT IV 600 or V/CAT III 1000 V. UL, CASA, and TUV.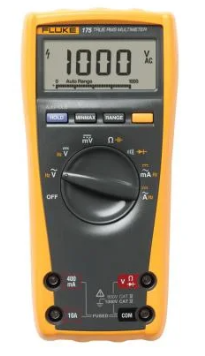 Fluke 289 True-rms Data Logging Multimeter
It is a high-performance industrial logging multimeter of the next generation. This is Fluke Connect compatible which means you can monitor your readings even from afar using iOS or Android smart devices through the Fluke Connect app. It records and saves readings in real-time with a time stamp! It can also save up to 15,000 recorded readings. You can easily hang it because of its magnetic hanger. Thus, giving more room for your hands to move around.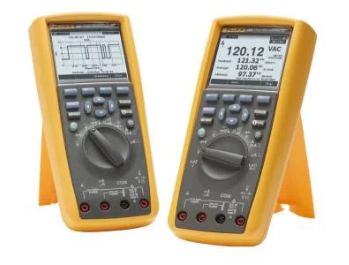 Fluke 381 Remote Display True-rms AC/DC Clamp Meter with iFlex
With a 6 feet cord, you can take readings even when you are in tight spaces. You won't think about disorganized wires anymore! This ergonomic clamp meter has proprietary inrush measurement technology to filter noise and capture starting currents. The iFLEX Flexible Current Probe has expanded measurement range up to 2500 A AC.
Get your Fluke tools through an authentic source!
Hey, you made it to the bottom! Are you currently looking for the best-performing test tools in the market to run daily maintenance checks on your machines? You're in luck cause Presidium PH is an authorized distributor of Fluke test tools in the Philippines. Prevent these faults from penetrating your machine by using the best test tools there are!
If you want to know more about Fluke tools and their functions, visit our website for more info! This is a one-stop-shop for the best test tools within Metro Manila.
Sources:
https://www.fluke.com/en-us/learn/blog/power-quality/troubleshooting-power-harmonics
https://www.newark.com/pdfs/techarticles/eaton/Eaton_Technical_Articles/UPS_Training/Powerware_Training/HarmonicsInYourElecSystem.pdf
https://www.electronics-tutorials.ws/accircuits/harmonics.html
https://www.electronics-tutorials.ws/power/switch-mode-power-supply.html
https://www.fluke.com/en-us/product/electrical-testing/digital-multimeters/87v-max
https://www.fluke.com/en-us/product/electrical-testing/digital-multimeters/fluke-175
https://www.fluke.com/en-us/product/electrical-testing/digital-multimeters/fluke-289
https://www.fluke.com/en-us/product/electrical-testing/clamp-meters/fluke-381