Test leads are a common sight to maintenance and women who are constantly working in electrical testing. It is also a known tool for electrical measurement safety that is often seen connected to digital multimeters. What most users do not know is that it is a Fluke accessory that is ideal to use in every operation especially if you're using a digital multimeter (or a Fluke device that can be connected to test leads).
Importance of test leads.
Some people might think that it's okay to measure without leads. But having to do so is very unwise. Never take your leads for granted. Even with the use of the infamous Fluke tools, you will still not be completely bulletproof when a hazardous occurrence takes place.
Test Leads will act as the first line of defense when you encounter high currents. Given the electrical measurement safety that it provides users, it makes it an essential part of test tools, especially for digital multimeters.
Make sure that your test leads are safe to use.
It is partly common knowledge that test leads are a vital part of every digital multimeter. With this said, you need to make sure that they are always in good working condition. Keep in mind that Fluke test tools are always going to be something more when they are paired with Fluke accessories like test leads. But beware, test leads may seem like a durable accessory but they are also prone to over usage and wear, making them decrease in performance.
Therefore, it is particularly important for you to inspect them before and after usage. A malfunctioning test lead can make matters worse for you than you think. In the maintenance department where accurate reading is necessary, a worn test lead may just get you into trouble. You see, test leads are prone to giving inaccurate readings when they are (1) under-rated, (2) worn, and (3) poorly manufactured.
Prevent the possible hazards.
Although test leads are naturally safe to use, there is an excessively significant difference once it starts to get old. Ideally, all test tools and accessories need a keen eye as well as all sorts of maintenance checks to keep them in good working condition. And this does not leave out test leads. If there are no maintenance checks for these test tools, daily maintenance operations might take a turn for the worst.
Remember that test leads are our first line of defense when working with high currents? Well, at worst and your test leads are in real bad shape to perform any extremely sensitive maintenance checks, then your test leads may provoke electrocution and shock hazards for the user. Therefore, it is very much preferred to also check your test leads to prevent the possible hazards that they may pose.
Do not forget to evaluate the test leads!
You read it right, your test leads also need to evaluate to ensure that they are still fit to do readings accurately and safely. It is simple to apply these in your day-to-day tool maintenance check. Trust that caring for your test leads early on can reap rewards in terms of future use. This will ensure accurate readings in every electrical measurement operation. Here's how you'll do it according to an official Fluke source!
Assessing the test leads:
Make sure to evaluate the leads while it is plugged into your DMM (digital multimeter).
Assess your leads using a simple OHMs measurement to ensure reliability.
You may isolate a problem to one lead or the other by assessing them separately.
If you are doing separate testing, simply connect one lead at a time between the ohms and common input.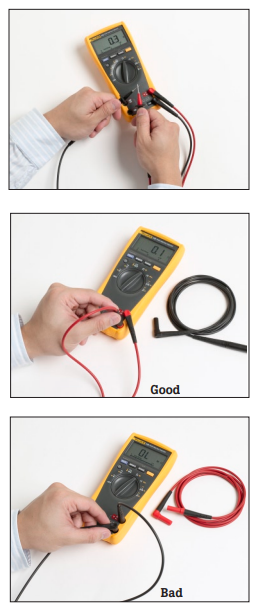 Additional Tips: Conduct an inspection for your test leads.
Some of the underlying issues of test leads can be seen in plain sight. A visual inspection might just do it. It is simple, doable, and will not require much of your time. That is if you know what you are looking for and where to look for faults.
When you are conducting a visual inspection, you should (1) check the insulation. Make sure that it is not cracked or nicked. This is because with age the insulation material—whether PVC or
silicone—can become dried out, brittle, and susceptible to cracking. (2) Be sure that there are no gaps or cracks located at the junction between the insulated wire and the banana-like plugs at each end.
Resolve these failures using Fluke Tools!
Hey, you made it to the bottom! Are you currently looking for the best-performing test tools in the market to run daily maintenance checks on your machines? You are in luck cause Presidium PH is an authorized distributor of Fluke test tools in the Philippines. Prevent these faults from penetrating your machine by using the best test tools there are!
If you want to know more about Fluke tools and their functions, visit our website for more info! This is a one-stop shop for the best test tools within Metro Manila.
Shop now: https://presidium.ph/?s=test+leads+