It is always a challenging feat to perform operations in a potentially dangerous environment. And even with the greatest test tools that adhere to its user's safety, you cannot be completely complacent. Pressure calibrating can pose a challenging task when done in a potentially explosive atmosphere. Therefore, when faced with such an assignment, make sure that you have undergone proper training and are equipped with the right equipment.
A deeper understanding of "intrinsically safe"
Primarily, to conduct pressure calibration in a high-risk atmosphere, you need a tool that is deemed "intrinsically safe". To give a simple explanation, if your tool is intrinsically safe, it means that it is designed to prevent the release of sufficient energy by either thermal or electrical means. Doing so will cause the ignition of flammable material such as gas or dust particles.
In general, intrinsically safe standards don't just apply to one device or a certain operation, but it applies to all tools and devices that are regularly exposed to potential explosive sources. Here are some of them…
Electrical sparks
Electrical arcs
Flames
Hot surfaces
Static electricity
Electromagnetic radiation
Chemical reactions
Mechanical impact
Mechanical friction
Compression ignition
Acoustic energy
Ionizing radiation
If you are a technician or maintenance man working in industries such as mining, petrochemical, pharmaceutical, or something that exposes you to explosive gases then make sure that your devices are deemed intrinsically safe. Remember, that you are the best asset on the field, so do not take any chances of proceeding with your operation without safe tools to use.
How to pressure calibrate a transmitter in a risky environment.
Now you know all about the device's safety, let us move on to pressure calibrating a transmitter. It is already a given that you'll probably tread on eggshells the entire time and try not to provoke the explosive substances that are surrounding you. However, that is not all you need to worry about. The most important thing that you need to do is to perform the procedure carefully and with precision.
Depressurize and isolate the transmitter. If opening the transmitter exposes voltages beyond the Intrinsic Safe (I.S.) rating use a continuous monitoring gas detector to monitor for explosive gases.
Plumb the transmitter to the 1/8 inch NPT pressure port of the 718Ex. Connect the test leads per the figure above.
Turn the calibrator on. Vent the calibrator and press zero to zero the pressure displayed. Close the vent control.
Press the UNITS key until PSI shows in the display.
With the 718Ex's bleed valve open to the atmosphere, press the ZERO key. Close the bleed valve. Set the pressure/vacuum valve to +, for positive pressure.
Use the hand pump to apply 3 psi to the transmitter. Partial pump strokes will apply small increments of pressure. Use the fine-adjust knob to get close to 3.00 psi.
Press the HOLD key and record the psi and mA readings. Press the HOLD key to resume reading.
Calculate and record the error, using: Error = ([(i-4)/16] – [(P-3)/12]) * 100 where Error is in % of span, i is your measured current in mA, and P is your measured pressure in psi.
Repeat steps 5 through 7 at mid-range, around 9 psi, to check linearity at mid-span.
Repeat steps 5 through 7, now at 15 psi, for a check at 100 % of span.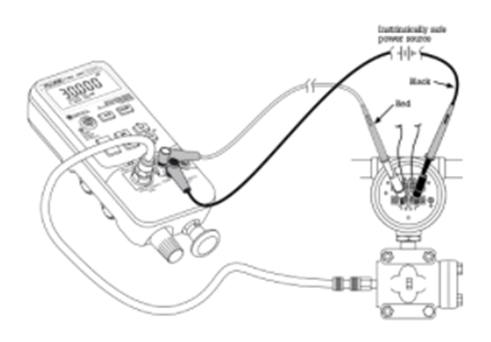 Purchase from an authentic source!
Hey, you made it to the bottom! Are you currently looking for the best-performing test tools in the market to run daily maintenance checks on your machines? You are in luck cause Presidium PH is an authorized distributor of Fluke test tools in the Philippines.
If you want to know more about Fluke tools and their functions, visit our website for more info! This is a one-stop shop for the best test tools within Metro Manila.
Visit our website https://presidium.ph/shop/?wlfilter=1&product_cat=fluke-calibration to know more about our fluke calibration products.